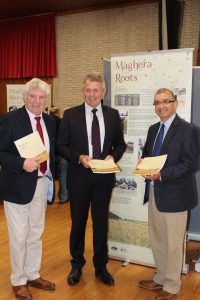 The launch of Maghera Roots, the vintage farming project initiated and run by Maghera Heritage & Cultural Centre, took place on the 30th June at the Presbyterian Hall Maghera. We were delighted to welcome Barclay Bell, President of the Ulster Farmers' Union to formally open the exhibition and Mukesh Sharma, Committee Member of the Heritage Lottery Fund who came to support and acknowledge our work. The entire project was only made possible by the grant aid provided by the Heritage Lottery Fund and for that we are very grateful.
Five farmers together with a team of volunteers from The Heritage and Cultural Centre worked on the project for over a year. This exhibition  and the book which accompanies it, is dedicated to Elizabeth Shiels, Raymond McNamee, Harry Armstrong, Charlie Convery and James Armour.
'Dedication' as defined in the English Oxford Dictionary means; 'The willingness to give a lot of time and energy to something because it is important'.That meaning certainly applies to all five farmers involved in the project Maghera Roots. Each one of them generously, and without reservation, opened up their hearts and homes and allowed us into their lives for the duration of the project. They realised the importance of recording and documenting how life was for them, and others, in the mid-twentieth century and that this record would stand as a source of information and knowledge in the future.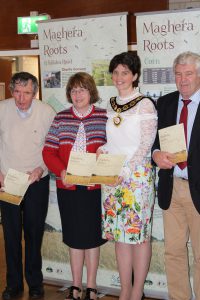 The Open-Day was the opportunity for the people of the area to engage with the project, learn more about the strong farming heritage of the area and enjoy a good day out. Information on the project was set out on ten panels, dealing with farming activities and traditions as well as describing the five farms involved in the project. In addition Elizabeth, Raymond, Harry, Charlie and James had brought in a huge variety of equipment, machinery, artefacts and tools used at the time. Everything from churns to tractors were on view and many of the pieces had been carefully mended and restored as part of the project.
The event was a huge success and we look forward to repeating it in a suitable venue in the autumn.  For more pictures visit our Gallery Page