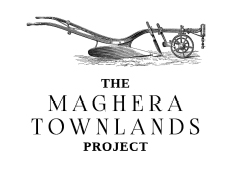 TOWNLANDS ARE OUR HERITAGE TO TREASURE
Maghera Townlands are very much part of who we are. They lie at the centre of life in most rural communities – and have done so since at least the 12th century. Each townland has built up its own history, traditions and stories over the years. Mostly this information lives only in the memories of the local people and was never formally written down.
PEACE IV PROGRAMME
With the Maghera Townlands Project, MHS Heritage & Culture set out to try to capture as much of these memories as possible before they are forgotten forever. The Project was made possible by a grant from the PEACE IV Programme, managed by the Special EU Programmes Body (SEUPB) for which we are very grateful.

INVITATION FOR YOU
This is an invitation to everybody who is interested in contributing to the project to record information about their own townland. Use this handout to write something about local characters, traditions, buildings, ruins, traditional meeting places, ceili houses, folklore, historic events, names of local families. etc,. All information, no matter how small, is welcome. Everything will help to build a picture of our local Townlands for generations to come.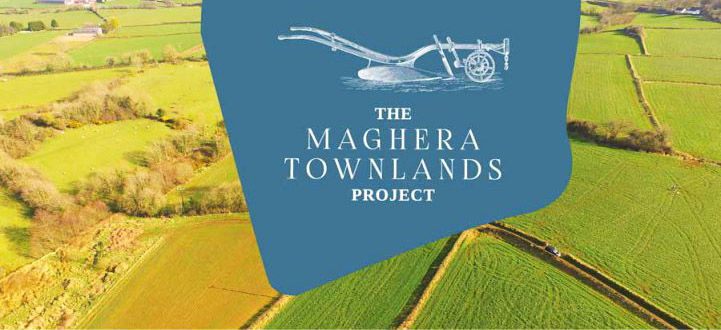 PUBLIC DOMAIN MAPPING – QGIS by John Marquess & Team
The objective of the project is to record the ancient names and details of fields in the townlands within Maghera parish. We are using public-domain mapping software; QGIS.
We've used it together with aerial survey photographs to create our own maps.The boundary of every field to be surveyed has been outlined and given a unique number. A townland boundary layer sits atop this, and the aerial image layer lies beneath.
SURVEYING
Each surveyor gets a 'digital atlas' with approx 60 pages of fairly high resolution maps. The atlas is just a very large PDF file, it displays well on a tablet, allowing pinch-and-zoom.
Surveyors visit each landowner with their maps, and a paper form to collect details of each field.
CUSTOMISED DIGITAL MAP
Back at home they transcribe the information into an on-line form. At our HQ we download the transcriptions and merge them back into the digital map. The cartography software is very powerful, we can switch on and off different layers of information, and emphasise or hide different features. We can produce customised maps for surveyors within minutes.
WE NEED YOUR HELP
Let us keep the memories of our Maghera townland's alive, share your story in the comment form below, along with any images you may find relevant. Maghera Historical Society and the team at Maghera Townland's Project, aim to create a project like no other and we want you to be a part of it!
[contact-form-7 id="461″ title="Share your story with us…"]