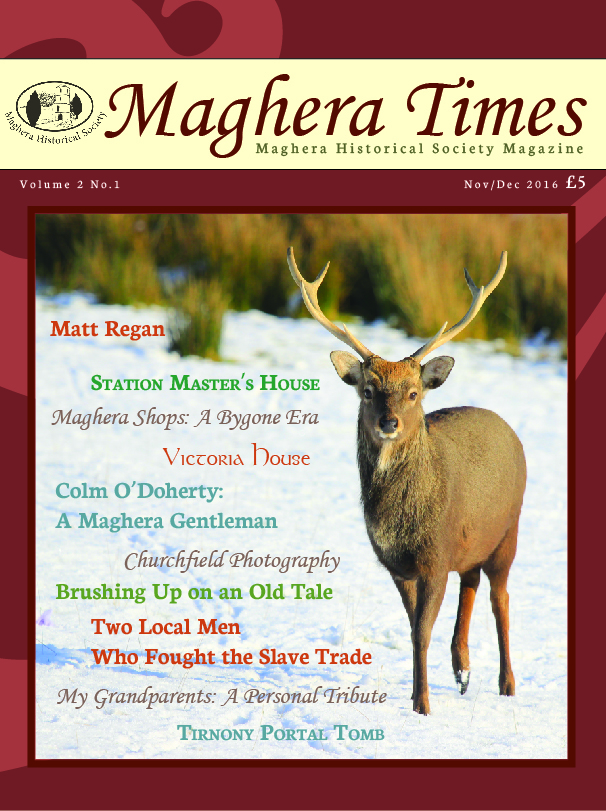 The December edition of the Maghera Times will be available to buy from next week!! . This beautifully produced, full-colour, magazine is not only a great read  – but would be a very welcome Christmas gift for friends and relations at home and abroad. With its wide range of articles, all based on Maghera and its surroundings, there is sure to be something to interest everyone. Articles range from a nostalgic look at shops and shopping in Maghera in the '50s and '60s to a description of the meticulous restoration of the Station Master's House. Going back further, the archaeological work carried out on Tirnony Dolmen is explained together with some fascinating information on the building methods and rituals carried on by our ancestors 6,000 years ago. Closer to the present, local people who gave a great deal to the town are fondly remembered. Old buildings, such as Victoria House, although long gone are brought to life again in these pages. The surprising and  exotic adventures of two local men who fought slavery far away in Sierra Leone are uncovered and, in an amazing piece of research, the location of fox-hunt described in an ancient manuscript, has been found to be based in this area.
With all this and more, we have managed to keep the price of the magazine at £5 – which everyone who has seen our previous issues will have to say – is amazing value.
The Maghera Times will be available to buy from Monday 28th December in the Heritage and Cultural Centre at 17 Coleraine Road, from our website http://www.maghera-heritage.org.uk/ and from local shops.
The launch of the magazine takes place in the Heritage Centre on the 1st December after the MHS Annual General Meeting and all are welcome to attend.