MAGHERA TIMES   Volume 1 No.1    Nov./Dec. 2015
Articles featured in the magazine include:
When the Classics Ruled Tirgarvil, by Peter Etherson.
This is the story of the brilliant hedge school teacher and classical scholar, John McCloskey (1788-1876). From humble beginnings McCloskey went on to establish his own school in Tirgarvil which became renowned throughout the province for its excellence with many of its pupils becoming household names.
The 1914 War Records of Michael Convery, by Brendan Convery.
Local man Michael Convery served in the Great War. The article is based on Brendan Convery's research into his grandfather's experiences.
Language Decline and Rebirth in Maghera/Carntogher, by Niall Ó'Catháin
Carntogher is one of the few areas in the country which has reversed the decline of the Irish language. Here Niall Ó' Catháin describes the vision behind the project.
Halycon Days, by Heather Wisener.
Here, in a warm and nostalgic article, Heather describes her happy memories of growing up in Maghera in the 1950s.
A Brief History of the Presbyterian Congregation of Maghera 1655-1865, by Denver Boyd
Denver Boyd has traced the history of the early Presbyterian Congregation in Maghera which includes such noted figures as Professor Thomas Witherow and the Rev. John Glendy.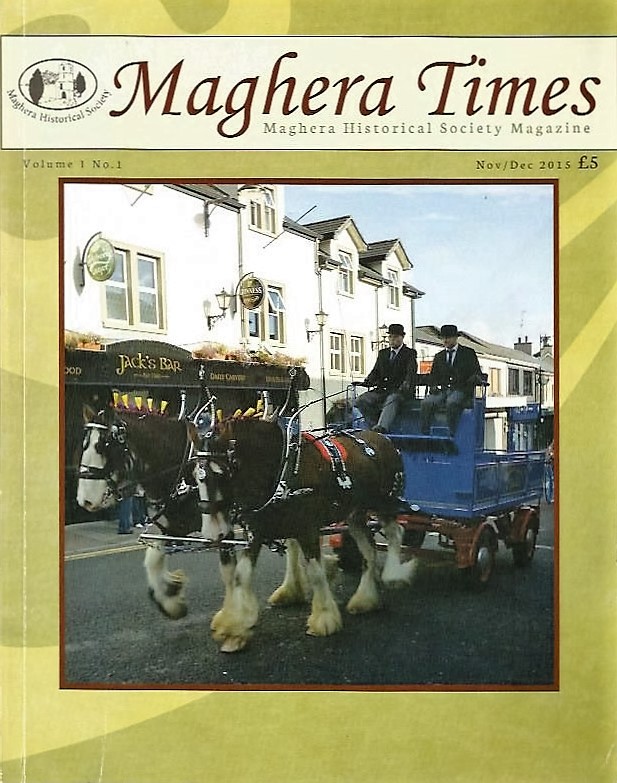 To the Ends of the Earth, By John Marquess
John Marquess left Maghera as a young man to join the Merchant Navy. This article chronicles his adventures as he travelled to the far-flung reaches of the globe.
Fair Faa Ye!  By Deirdre Speers Whyte
The Ulster-Scots tradition is re-claiming its pride and identity. Deirdre Speers Whyte explains the background to the culture and gives us some useful Ulster-Scots words for those days when 'when you feel crabbit and the world has gone agley.'
 The Walled Garden, by Maeve O'Neill
Maghera has benefitted hugely from the restoration of the spectacular Walled Garden in the grounds of the Old Rectory. Maeve O'Neill gives the background of the project in a beautifully illustrated article.
Maghera: Now and Then, by Pat Rafferty
Local deltiologist (collector of old postcards) Pat Rafferty contrasts views of Maghera in the past with what the town looks like today.
Maghera and the United Irishmen, by Joseph McCoy
1798 was a troubled year in Ireland. Joseph McCoy examines the background to the rebellion locally and places it in a wider context.
The magazine also includes some humorous verse by George Shiels, information on the Historical Society and its events over the year, a note on the library and Maghera's famous author Eve Bunting, and an advertising feature on local businesses describing their foundation and history in the town.